Des Moines Heat Pump Services
Heat pumps are very versatile devices for transferring heat from one location to another. When used to heat water, a heat pump hot water heater can save significant energy while also providing your home with the hot water it needs. However, these kinds of systems need the care of trained experts, and our pros have a great amount of experience with them. We can size and install a new heat pump hot water heater for you, replace one that isn't working anymore, or repair and maintain an existing one so that it provides the hot water you need. Have an emergency? Not a problem. Just give us a call and we'll dispatch a technician right away. You deserve to reap the benefits your heat pump hot water heater provides, but you may not get that with an inexpert technician. Instead, call the people you can trust: Schaal Plumbing, Heating and Cooling.
Do you need expert service for your heat pump hot water heater? Then contact Schaal Plumbing, Heating and Cooling today!
Get in Touch with Schaal, Ya'all!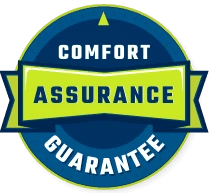 HVAC Service, Repair or Installation?
Call Schaal Yaall!
Call Schaal today at
(515) 293-4812
for more information about our Heat Pump Water Heater services and to set up an appointment, or easily schedule online!
Heat pump hot water heaters work in a similar way as heat pump HVAC systems. The key is heat transfer. With a hot water heater, the refrigerant in the heat pump absorbs heat in the surrounding air. The heated refrigerant travels through a specialized coil inside the hot water tank where it can transfer the heat directly to the water in the tank. This type of hot water heater is also equipped with a standard electric heating element for hybrid heating and fast heating. There are four settings you can set your heat pump hot water heater to operate at, including the hybrid setting:
Efficiency/Economy – this setting maximizes energy efficiency and savings by only using the heat pump to heat water.
Auto/Hybrid – this setting is most commonly used for daily use; as such, it is the default setting. This setting will provide energy–efficient water heating with sustained heat from the electric heating element if needed.
Electric/Heater – this is a high–demand setting and is the least energy–efficient, using only the electric element to heat water.
Vacation and Timer – this setting allows you to save on energy when you are away from home; simply place the unit in "sleep" mode and change it back when you return.
Here are some of the benefits a heat pump hot water heater can provide you and your home:
Variety of tank sizes – like traditional storage tank hot water heaters, heat pump hot water heaters offer a wide variety of tank sizes to accommodate all the people in your home.
Very good energy efficiency – heat pump hot water heaters can use up to 40% less energy than traditional storage tank hot water heaters.
Longer lifespan – the average lifespan of a traditional tank hot water heater is typically 10–13 years; heat pump hot water heaters last 15–20.
Lastly, if you already have a heat pump HVAC system in your home, it is very easy to add a heat pump hot water heater to the system. To learn more about our water heater services in Des Moines, please don't hesitate to contact us by phone, online form, or stop by and see us in person! Did you know that we offer much more than heat pump water heater services? Residents of Des Moines trust us for all of their water heater services, including traditional tank and tankless water heaters. From water heater repair, to the replacement of an older model, we've got you covered. And with 70 years of experience, you'll have peace of mind that the job was done right.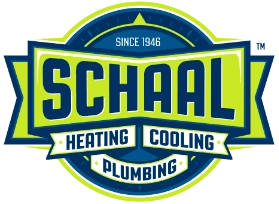 *Today's Offer*
FREE Furnace
Receive a FREE furnace when you purchase an AC! All you pay is the labor to install it. Limited time offer!
The Heat Pump Water Heater Experts at Schaal Plumbing, Heating & Cooling are ready to help! Call or easily schedule online, today.